The Canadian Parliament shuts down probably the most important question concerning treason against the Canadian people. Stating that Schwab has bragged about infiltrating the Canadian government and naming those involved with Schwab after he has openly bragged about this accomplishment, Parliament shut down the question to make sure nobody would answer.
Then the notorious corrupt Liberal MP had the open audacity to claim this is misinformation when it is openly published even at Harvard University, one must wonder what are his connections and how much has he received in gifts, political donations, and favored status from bankers to block any such questions.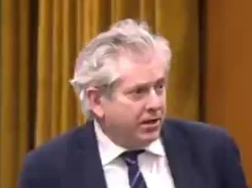 These people have betrayed their own country. Schwab's agenda to eliminate even paper currency was to take place by 2024. But COVID is backfiring which has resulted in bringing this forward to 2023 just after the US elections.
This is the image of Canada emerging from the outside. Even Archbishop Carlo Maria Viganò has come out in support of the Truckers.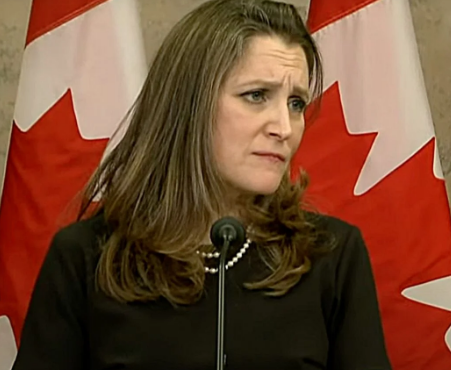 Schwab was not kidding and it was not the misinformation. The Emergency Act will become permanent in Canada. Deputy Prime Minister Chrystia Freeland intends to make permanent the invasive financial surveillance system introduced as part of the "Emergencies Act" to absolutely destroy and crush the civil liberties protests and to be able to defund all opposition. Freeland is also a Young Global Leader graduate who is also loyal to Schwab. They have been indoctrinated with an authoritarian view of powers and Canada is to have its sovereignty surrendered to Schwab's global vision. She declared:
"As of today, all crowdfunding platforms, and the payment service providers they use, must register with FINTRAC and must report large and suspicious transactions to FINTRAC (Financial Transactions and Reports Analysis Centre of Canada)." Freeland added: "This will help mitigate the risk that these platforms receive illicit funds; increase the quality and quantity of intelligence received by FINTRAC; and make more information available to support investigations by law enforcement into these illegal blockades."
"This is about following the money. This is about stopping the financing of these illegal blockades. We are today serving notice, if your truck is being used in these illegal blockades your corporate accounts will be frozen."
Trudeau has called in the police and they are to attack the protesters with brutal force. Leaks of communications have shown that the RCMP currently in Ottawa is to assist in the crackdown on peaceful protesters allegedly brag about using brutal force in a leaked group chat according to Rebel News. He has also called in police from Quebec who will defend him against the English-speaking truckers. This was Schwab's and Canada's Tiananmen Square. Canada may now have only until the 1st week of April.
This is a battle to the death for Schwab's Great Reset. Canada MUST be driven into submission and this is critical to the ideas of Schwab and his vision for the world.
Schwab has promised these politicians dictatorial powers with the end of all democratic processes. Schwab is pushing the design of Europe upon the rest of the world whereby the head of state NEVER stands for election, neither does the European Commission which makes all laws and to fool the people that they are still relevant, they get to vote for an MP who has no power to make or overrule laws crafted by the Commission. This is the system they intend to impose on the world and politicians will NEVER again need to worry about being voted out of office. This is why governments are now protecting Schwab. He has promised them a world void of any power of the people to vote them out of control. What Schwab has not considered is that he is boxing in people to the point the only solution will be a revolution.
Original article by Michael Armstrong
More on Charlie Angus…
When I searched Charlie Angus' Wikipedia at 12:33pm Feb 20, 2022, this came up.
That's right, WEF member.
But at 1:47, the page was edited.
No matter, he's such a globalist.
Member for international governance.
Anyways, …
The WEF has more control than anyone can imagine. Bought and paid for politicians, company CEOs, financial institutions, tech moguls.
The list is expansive, here is a taste.
Chancellor of the University of Northern British Columbia, as well as Senior Business Advisor at the multinational law firm Dentons, and Senior Advisory at the global firm Edelman.
Managing Director for OPTrust, a Canadian public pension plan, and serving as a board director for Ai-Media and for several public policy & educational organizations. Former MP.
Founder and CEO of BroadbandTV (BBTV) the company is the world's third largest video property after Google and Facebook in terms of unique viewers.
President and CEO, Sandstorm Gold, a NYSE American-listed company with a market capitalization of $1.1 billion.
Co-Founder President, & Chief Operating Officer, Cloudflare, a web performance and security company.
Eng.; MBA. Formerly with Procter & Gamble, Nortel Networks, McKinsey & Cie and Chief Executive Officer, Montreal International. Currently, Minister of Economy for Québec.
Ailish Campbell joined Global Affairs Canada as the Chief Trade Commissioner of Canada in March 2017.
Geologist and resource company entrepreneur with over 46 years of experience in the international minerals and renewable energy industries. Founder and Chairman: Pan American Silver Corp., one of the world's leading silver producers
Member of the board of Chartered Public Accountants of Ontario. He is also a member of the Advisory Council for the School of Public Policy at the University of Calgary.
President and CEO, Teck Resources; at Teck
President and Chief Executive Officer of Nutrien, active role on the boards of the Business Council of Canada, the International Fertilizer Association, International Plant Nutrition Institute and the Canada Pension Plan Investment Board.
Group President and Chief Executive Officer of TD Bank Group.
President and Chief Executive Officer, Caisse de dépôt et placement du Québec (CDPQ).
President and Chief Executive Officer, Ontario Teachers' Pension Plan We all know that the Rideau Center closed right….. Cadillac Fairview which owns the Rideau Center owned by the OTPP.
Senior Vice-President and Editorial Director, Professional Division; Editor-in-Chief, Reuters News and Executive Vice-President, News, Thomson Reuters; President and Editor-in-Chief, Reuters.
Principal and Vice-Chancellor, McGill University, Advisory Council on Economic Growth to the Canadian Federal Minister of Finance, Conference Board of Canada; Universities Canada; Pierre Elliott Trudeau Foundation.
Executive Vice-President, Europe & Canada AstraZeneca.
Member of Parliament, Parliament of Canada, Vice-Chair of Global Investment Banking at CIBC.
Pension Investment Adviser to Ontario's Minister of Finance. Currently, Member of Parliament for Toronto Centre and Minister of Finance of Canada.
Director, IMF. Currently, Vice-Chairman, BMO Financial Group. Chancellor, University of King's College. Former Chair, University of Waterloo.
Global Leader, Principal Investors and Private Equity Practice; Managing Director and Senior Partner, Boston Consulting Group, Canada.
Vice-President of the Royal Bank of Canada.
Member of the Board, Trans Canada Trail and The Canadian Nature Museum Foundation. Speaks on topics including re-imagining capitalism, natural capital, sustainability and ESG reporting, climate action.
Leader, Canada's New Democrats, New Democratic Party of Canada.
Renée Maria is Senior Counsel to the Supreme Court of Canada. She was also selected to serve as a commissioner of an International Bar Association mission to Cambodia.
Professor of Law and Professor of Strategic Management, University of Toronto. Faculty Affiliate, Vector Institute for Artificial Intelligence and Center for Human-Compatible AI, University of California Berkeley. Senior Policy Advisor, OpenAI.
Asst. Deputy Minister for Strategic Policy, Global Affairs CA. Responsible for developing, leading and coordinating Canada's emerging foreign, economic and international development policy agendas. She is also Champion for Innovation and Experimentation.
Minister of Infrastructure and Communities of Canada (2015-2019) We all know her.
Chairman, BlackRock Alternative Investors; Global Head, Active Equities, BlackRock Inc. Ontario citizen and Manager of the Ontario Teachers' Pension Plan.
Minister of Foreign Affairs, Global Affairs Canada. She is the author of Changing the Rules of the Game, in which she shares her vision for public policy and civic engagement.
Rasha Al-Katta is a Canadian Diplomat at the Permanent Mission of Canada to the United Nations. Rasha holds a B.Soc.Sc. in International Development and Globalization.
Executive Vice-President; Head, CDPQ Global, Caisse de dépôt et placement du Québec (CDPQ). From 2017 to 2020, he sat on Canada's North American Free Trade Agreement Council.
Chief Executive Officer, YWCA Canada. Member of the Gender Equality Advisory Council for Canada's G7 Presidency.
This one scares the hell out of me, and everyone should understand the depth of the corruption. When our Senate, that passes our laws and bills is compromised, we have an issue. Senator, Senate of Canada.
And why is it, PSP Investments, the investment board in charge of our law enforcements (RCMP) contributions are partnered with the #WEFGate.
Don't think our Conservative Party isn't tainted. Bachelor's and Master's degree in Economics, University of Calgary. 2002, Leader of the Opposition; co-founded Conservative Party and won party leadership; 2006, Prime Minister of Canada.
Mayor of Montreal, City of Montreal.
Ex Mayor of Toronto, Director International Diplomacy, C40 Cities Climate Leadership Group.
And on and on and on… Search your favourite villains in the WEF search widget…
Then there are the members that wipe their participation from the web.
Well, they try too.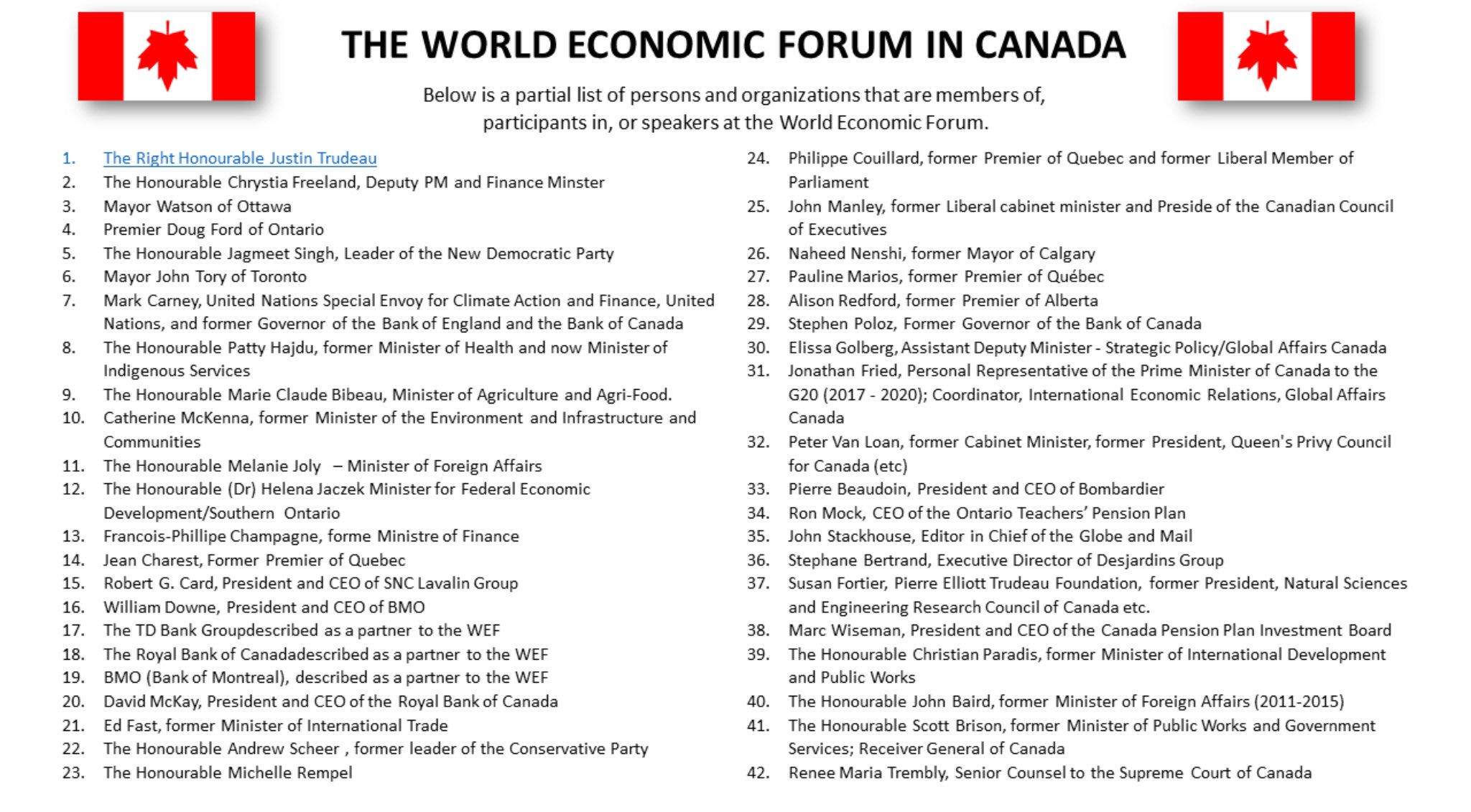 Now that you are at the bottom of this rabbit hole, wrap your head around this…