Ottawa's Police Chief Peter Sloly was UN peacekeeper, BEFORE he became Toronto Deputy Chief, then Ottawa Chief.
All the police chiefs who sent forces to Ottawa for Freedom Convoy, also gave witness to the House Standing Committee On Policing In Major Cities. They were all there including Peter Sloly who was with the Toronto Police Services at the time. The evidence these police chiefs gave was that they were using Palantir technology.
FYI: Candace Bergen was on the standing committee.
"We have a chance to emerge from this with a path forward that will create a more inclusive and prosperous country. To fall back on old approaches, old ideologies and old politics will not serve Canada well."
———————————–David MacNaughton is the Canadian president of Palantir Technologies. He served as Canada's ambassador to the United States from 2016-19.
Palantir is at its heart, the data mining wing of BlackRock, Vanguard and Fidelity. The head of the snake.
Institutional Holders for Palantir.
Top mutual fund holders.
Finding out that they are rooted in our police services is double worrisome considering they are already rooted in our medical services, which occurred provincially and federally during the COVID-19 vaccination rollout.
Trudeau Appoints General to Rollout Vaccine: Military Contracts NSA's Palantir!
Doug Ford Enlists Military for Vaccine Rollout: The NSA, Palantir, Team Rubicon, Clinton Foundation may be Tracking You!
Now that they are firmly situated in Canada, they look to be poised to take on a full spectrum dominance of all our public services.
Donald Trump and USA governors also made similar arrangements with Palantir.
What could one company do with all that data? They feed and control the Artificial Intelligence, that's what!
"Our A game wins! Our C game loses!" – Alex Karp @PalantirTech
The World Food Program partnered with Palantir, to "help" collect data on Syrian refugees. What ended up happening was the beta test for the blockchain technology that will be used to track and trace us. Palantir is establishing social credit scores on everyone and will ultimately be the basis of determining who gets what.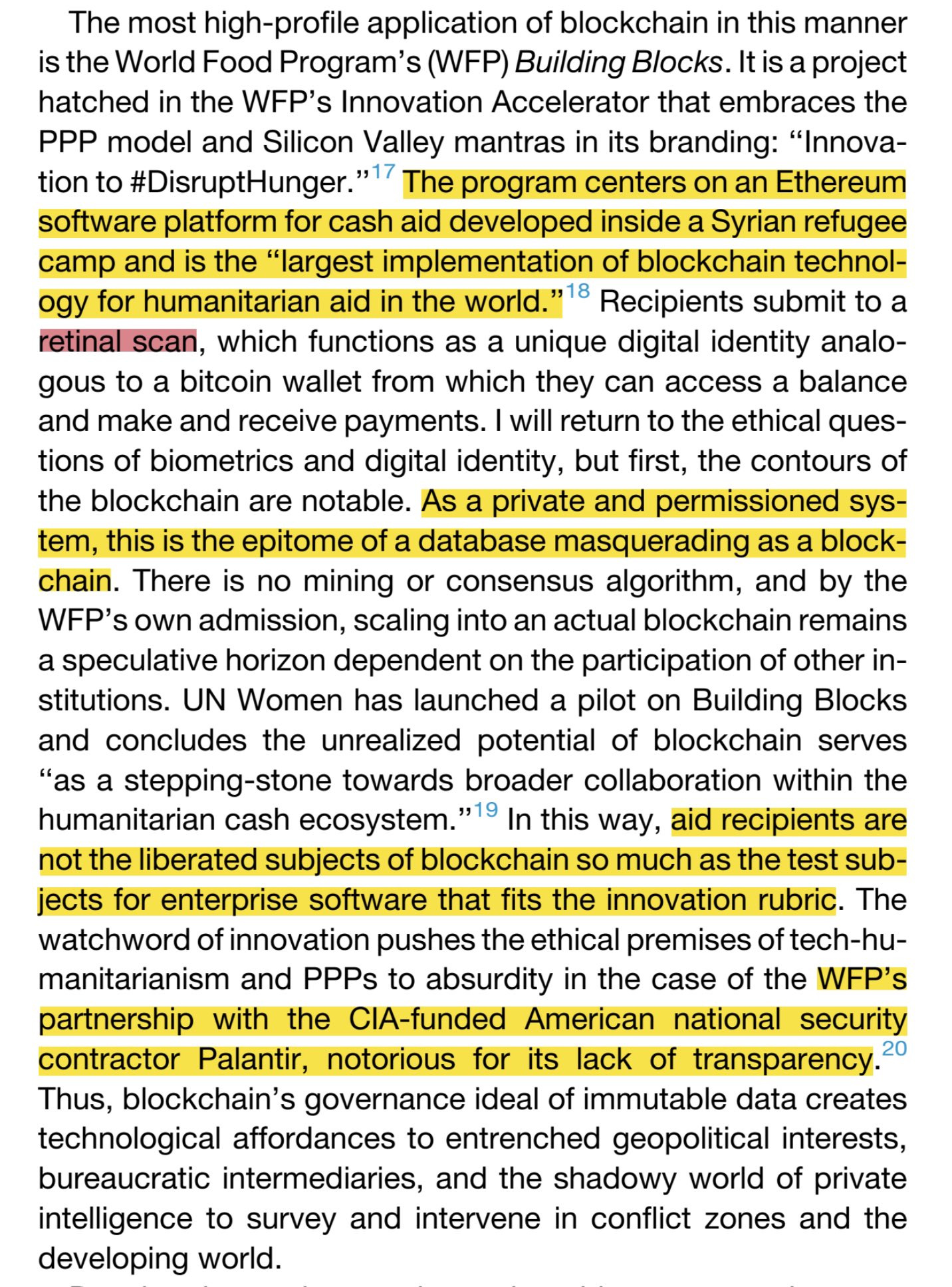 Alex Karp, or Palantir made an outrageous statement recently.
"Palantir is sitting at the most important intersection of software now. Defense, cybersecurity, and logistics. It would be hard to argue against Alex Karp prediction that the world is going to be more chaotic and that Palantir will be one of the most important software companies.
"Palantir refuses to work with China, Iran, North Korea and many other governments. The company's CEO, Alex Karp, thinks companies that do work with these regimes should justify their position.
"Apple and many chip companies are among the major U.S. tech firms that continue to operate in China. The comments from Karp come as more tech companies pull out of the country amid harsher internet censorship.
"Yahoo said it was leaving China and Microsoft said in October it would shut down professional networking platform LinkedIn and replace it with a jobs board. Google decided to shutter operations in 2010, while Twitter and Facebook have been blocked for more than a decade.
"Worth noting that Palantir helps spy agencies and militaries in other parts of the world to carry out surveillance."
LOL, as they help implement CCP style surveillance in the west.

Yup, doesn't sound like a communist to me.
Well that is an outstanding statement, just one thing, palantir founder Peter Thiel is totally in bed with foreign partners, including Israel and China.
Israeli military intelligence is Palantir… and now it's China.
Israel is Russian Oligarchs.
Silicon Wadi IS Russian Chabad.

Israel will be at the helm of post COVID world order.
Israel intelligence is Palantir is China Belt and Road.
Chabad Jews from Russia (Ashkenazi) produce a jab that injures/kills non Ashkenazi's, and tracks the survivors.
If you want to continue on this massive subject, let me introduce you to Brandon O'Connell. He seems to spend every hour of every day on this for the last decade.
Additional Police State:
Mayor Jim Watson: WEF's Nazi Scum & President Xi's Man In Ottawa.